Managed WAN Solutions
Resilient. Robust. Easy.
Does your business depend on uninterrupted access to the network and to the Internet? Do your users find themselves frustrated by slow access to mission critical applications like ERP, CRM, Salesforce, Office 365 or internal applications? Does your current failover plan leave you paying for bandwidth you can't use?
If you are looking for a way to add bandwidth, improve performance and maximize up-time, without breaking the budget, we can help.
We will bolster your existing network by using inexpensive broadband to build a resilient, fast and cost effective network that makes your users and your budget happy.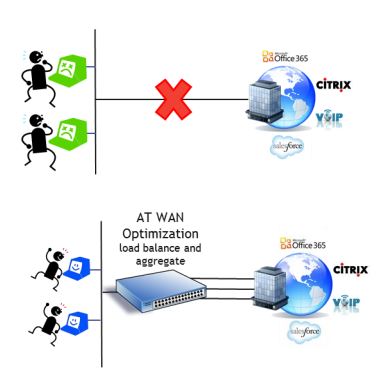 WAN OPTIMIZATION BENEFITS
Support for up to 15 WAN links or a total bandwidth of 4Gb
Inbound and Outbound load balancing
Multi-homed without the use of BGP
VPN failover
Authoritative DNS
Traffic shaping and application prioritization
24x7x365 tech support & network monitoring
Proactive notification of degraded links
Bring your own bandwidth!